interview/AMA with @77takuNft
An Interview with Japan's Tokyo Alternative Girls(TAG) — Nanataku
https://yuurinbee.medium.com/an-interview-with-japans-tokyo-alternative-girls-tag-nanataku-afcde565b7fb
This is an easy to understand explanation of the great points of this project

The founder, Nanataku, is Japan's largest blue chip collection
Crypto Ninja Partners(CNP) production member (Parts design and PV production)
https://opensea.io/collection/cryptoninjapartners-v2
Project Summary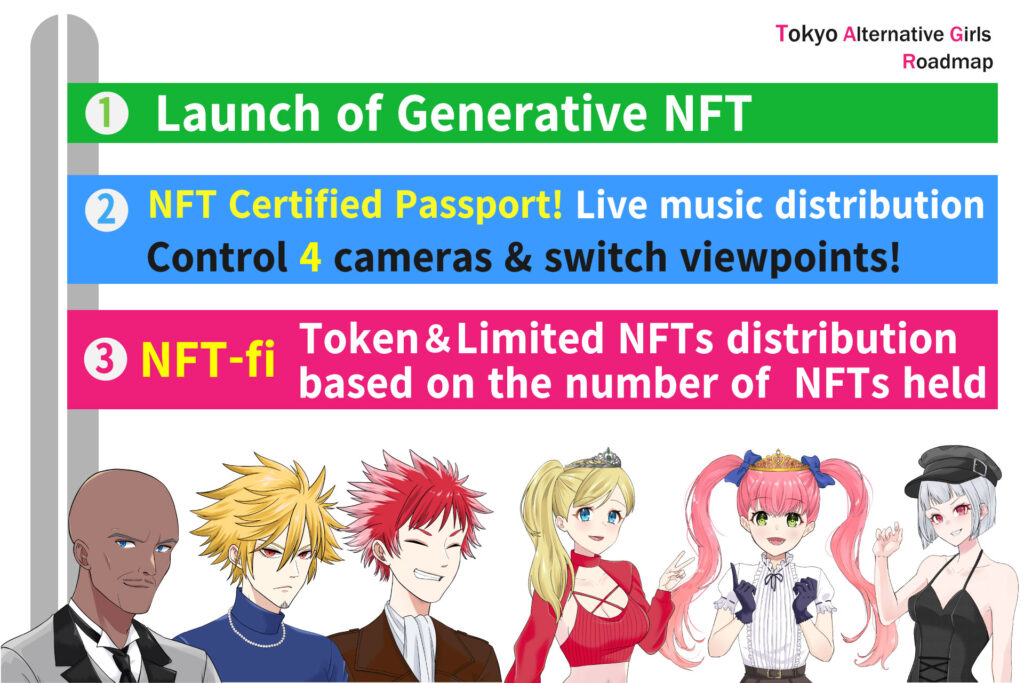 1.Creating an Entertainment Company in the Web3 NFT Passport Ticket Collection
goes on sale November 5!
2.Music event production in partnership with record companies
3.The archive of Tokyo club event distribution is NFT authentication for viewing.
4. Plans to expand into the Metaverse created by Japan's largest mobile company
<About TAG Utility
●Authentication ticket for live streaming
Partnership with live music clubs operated by record company Victor.
TAG's NFT will be the authentication key to view the live event archive.
The archive uses four cameras, allowing viewers to select their own camera and watch at any angle of view.
The live music venues scheduled to hold live performances are https://veats.jp/
The management company is https://www.jvcmusic.co.jp/
Utilities based on the number of NFTs
1 NFT: Viewing of TAG's live events is possible.

3 or more NFTs: Priority AL tickets to PJ events in which TAG is involved.

15 or more NFTs or Pig masi rolls: Join the core members (Alpha Group).
Hear about TAG's management policies ahead of time. Participation in future TAG strategy meetings.From now on, you can join the Alpha Group by winning the Rumble and aiming for the Pig Masi roll-up, or by purchasing 15 NFTs.

NFT 50 or more:Priority access to future music events.
You will also receive more tokens.
NFT dress-up
By deleting one of your NFTs (Burn), you can obtain a NFT with a new design.
Exchange tickets will be distributed preferentially to those who own multiple NFTs. (NFT format)
3 tickets for 10 or more, 2 tickets for 5 or more, and 1 ticket for 3 or more will be given.
Exchange tickets can be bought and sold.
The illustration is a bust-up composition suitable for PFP.
TAG is an idol and spy, so her next outfit will be in battle mode. We also plan to prepare a sexy outfit as well.
You will be able to enjoy both NFTs that you love and NFTs that you use as icons!
By making the change, you can offer new NFT designs while getting rid of less popular NFTs from your inventory, increasing customer satisfaction.
Distribution of backgrounds for NFT
NFT backgrounds are distributed at the following URL and can be used as Discord stamps.
Customize your favorite backgrounds by combining them with NFT.
https://www.dressupnft.app/
Production of music
Music will be produced by Ryota Katou, a talented Vocaloid PV demo of the song will be released at the end of November. https://www.youtube.com/watch?v=LxQkxBpdolw
The demo of the song is scheduled to be released at the end of November, and the world view of TAG will be expanded through the PV.
1.We are planning to create a TAG liquidity pool  We are planning NFT staking in the future You can get more limited NFTs depending on the number of NFTs you deposit and It will be easier to win invitations to live events.

Breakdown of Number of Copies Issued 7,770 of the 10,000 copies will be sold 2,230 copies will be locked for one year for administrative purposes. Advance notice will be given when unlocked.
TAG Token
After the introduction of NFTfi, "TAG Tokens" will be issued
in proportion to the number of NFTs deposited.

Limited edition NFTs will be distributed according to the number of "TAG Tokens" and 3D avatars to be created in the future will be exchanged for tokens according to live events to be held in the metaverse space.
2.Voting tickets Voting and recommending performers for live events We plan to use them as voting tickets when deciding how to spend the profits. By having multiple NFTs, you will be able to participate in the management of music events.
3.Changing NFTs By deleting one NFT you own (Burn), you can get a new NFT with a new design. Exchange tickets will be distributed to those who have multiple NFTs. (The following exchange rate is planned: "3 tickets for 10 or more", "2 tickets for 5 or more", and "1 ticket for 3 or more". You can sell your exchange tickets or use them! It's a great deal! The illustration will be a bust-up composition suitable for PFP. TAG is an idol and a spy, so we plan to use battle mode outfits next time. You will be able to enjoy both the illustration you love and the collection you make into an icon!